About CXC4L
Our Mission
The Newark Memorial Cross Country Alumni Association (also known as CXC4L) has a few major goals:
To assist the current team in a variety of ways, whether it involves running advice from experienced athletes, providing a low pressure first race for new runners through our annual alumni meet, or even college and career advice from alumni that have already gone through the entire process.
To provide its members with an easier atmosphere and motivation to stay healthy.
To ensure that those who left everything at Coyote Hills in the name of Newark remain networked, even if their cross country days are in the past.
Our Members
We are all alumni of the Newark Memorial Cross Country team. Most of us were in the best shape of our lives during the time we spent there. Some of us got into even better running shape after high school (the crazy ones.) Some of us participated in intercollegiate athletics. Some of us are moth types. Some of us lean towards the non-linear. We all enjoy each other's company.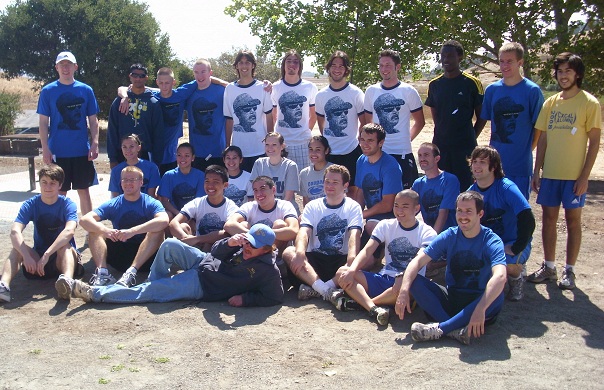 The 2010 CXC4L Alumni Team with their favorite high school coach, Jim Sechler.
Front row: Coach Jim Sechler. Second row: David Wood, Filip Nowak, Justin Phan, Chris Grovers, Brian Mendonca, Walter Roppiyakuda, Benjamin Iremonger. Third Row: Katie Drago, Paige Natividad, Alisia Sierras, Tanya Przybyla, Tracy White, Mason Luperine, Karl Iremonger, Jake Iremonger. Back row: Brian King, Ravinder Singh, Josh Weinert, Nathan Hellman, Chris Chandler, Andrew Akre, Nick Chandler, Jason Biser, Martin Mwangi, Tyler Jorgens, Patrick Whiteford.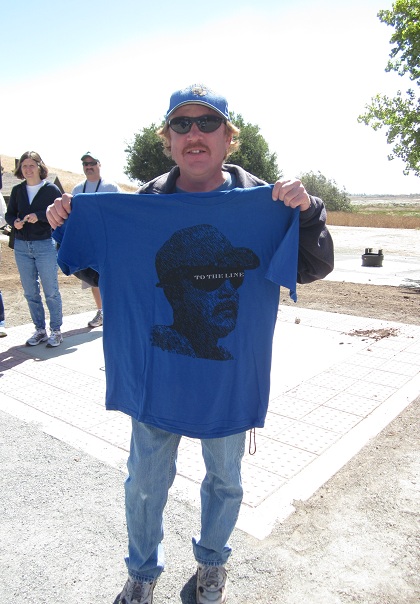 NMHS Cross Country Head Coach Jim Sechler with his special edition 2010 CXC4L T-shirt. The T-shirt is a likeness of Coach Sechler, with his infamous race-starting phrase, "To The Line!"